Country may be as eager to tap the youth market as any branch of popular music is, but it appears to be the only one in which septuagenarians are still a vital force.
"Country music has always been adult music sung by adults," said Bruce Hinton, the chairman emeritus of MCA Records Nashville. "Obviously this could never happen on the pop side, and I'm just glad there is still some recognition of these masters, even if it's not as frequent as we would all like."
In an article of New York Post by Phil Sweetland in 2003 he wrote and we quoted, "country radio rarely plays records by these elder statesmen, except those by Willie Nelson, whose hit single "Beer for My Horses" (DreamWorks) is sung with Toby Keith, a comparative young buck at 41. Getting even less air time are songs by older women who are stars, like Dolly Parton, 57, and Loretta Lynn, 69. Tammy Wynette, who died in 1998, had her last Top 10 radio hit in 1985."
"I believe it's simply because Johnny and Willie and myself and [Merle] Haggard have stayed with what I call honest music," Mr. Jones said in a telephone interview. "We've never tried to be much more than what we are. We're just open with our lives and the way we live, and that's what we sing." Mr. Nelson, whose recent duet partners also include Sheryl Crow, 40, and Norah Jones, 24, expects to play 200 dates this year.
Country Music excludes women, specially over 40.
Despite the successes of musicians like Carrie Underwood, Miranda Lambert, and Kacey Musgraves — who won the 2019 Grammy for album of the year for her project Golden Hour, as well as best country album and best country solo performance — the voices of women creators are severely underrepresented.
According to the Annenberg researchers, led by Stacy L. Smith, only 16 percent of country artists are female, and only 12 percent of country songwriters are women.
The team also notes that when female country artists do find mainstream success, they are young. "Not one of the top-performing women was over the age of 40," they note, "while all but one of country's top-performing men had reached or exceeded that age." They found that the average age of top female artists is 29 years old — while for men, the average age is 42.
Billboard magazine reported last December that for the first time, its Country Airplay chart listed no female artists in its Top 20. The Annenberg team says that its research was triggered by the Academy of Country Music (ACM) Awards nominees announcement in February, in which not a single woman was put forward for entertainer of the year.
The Annenberg report was released just ahead of the 2019 ACM ceremony, which will take place this Sunday in Las Vegas.
According to the researchers, people in the country music industry are hesitant to bring up the gender gap issue, out of fear of retribution. "One of the reasons we did the gender in country music research is that there is so much fear in this space. People are terrified to speak," the Annenberg group wrote on Twitter.
The Annenberg study comes on the heels of news that a viral song by Lil Nas X, "Old Town Road (I Got Horses in the Back)," was removed from Billboard's Hot Country Songs chart because it "does not embrace enough elements of today's country music to chart in its current version." On Thursday, Lil Nas X released another version of his song — this time featuring a mainstream, white and male country artist: Billy Ray Cyrus. Critics say that Nashville's country music industry is filled with gatekeepers whose vision for the genre is centered on white and male artists — and that the audience's tastes are shaped by those forces.
Shane Morris, a digital artist development expert in Nashville, told Morning Editionon Friday: "They [the fans] very much are given what they're supposed to like, and then that's that."
Cindy Mabe, president of Universal Music Group Nashville, says: "We clearly have a problem. Our job is to amplify our artists' voices and help them introduce their stories and connect to their audience. This has gotten increasingly harder and limiting over the last few years, especially for women and it has dramatically affected the perspective, reach and depth of our country music genre."
Apple Music announced in 2020 Country Music Radio
Beginning today, Beats 1, the flagship global radio station, will be renamed Apple Music 1, and two additional radio stations will launch: Apple Music Hits, celebrating everyone's favorite songs from the '80s, '90s, and 2000s, and Apple Music Country, spotlighting country music.
This kind of platforms, help to reduce the ageism on Country Music
Radio is part of the fabric of country music culture, and Apple Music Country amplifies that experience for the modern fan. As country music evolves and expands around the world, Apple Music Country aims to be the definitive place for every lane of an increasingly diverse genre. The station offers a mix of the best music of today while introducing fans to the stars of tomorrow and reminding them of the legendary artists and tracks that have shaped and defined country music along the way.
Vince Gill thinks Guitar Slinger is his best album, and that's saying something. Yet he figures the average country fan won't hear it.
That listener usually picks up their music on the radio, and precious few mainstream country stations will be playing Gill's music in heavy rotation. As a player with a keen sense of country music history, he's seen it happen time and again. He was saddened when they stopped playing Merle Haggard and George Jones. He understood why, but that doesn't make it easier to take.
"I just felt like, 'Don't stop playing them because of their age'," Gill said.
"If they're not as good, if the records aren't as great, if the crap coming along is better, great. That's all I ever wanted any of the people coming along to be was great. But if you get replaced by what you feel is not even close to as good, that messes with you, I guess."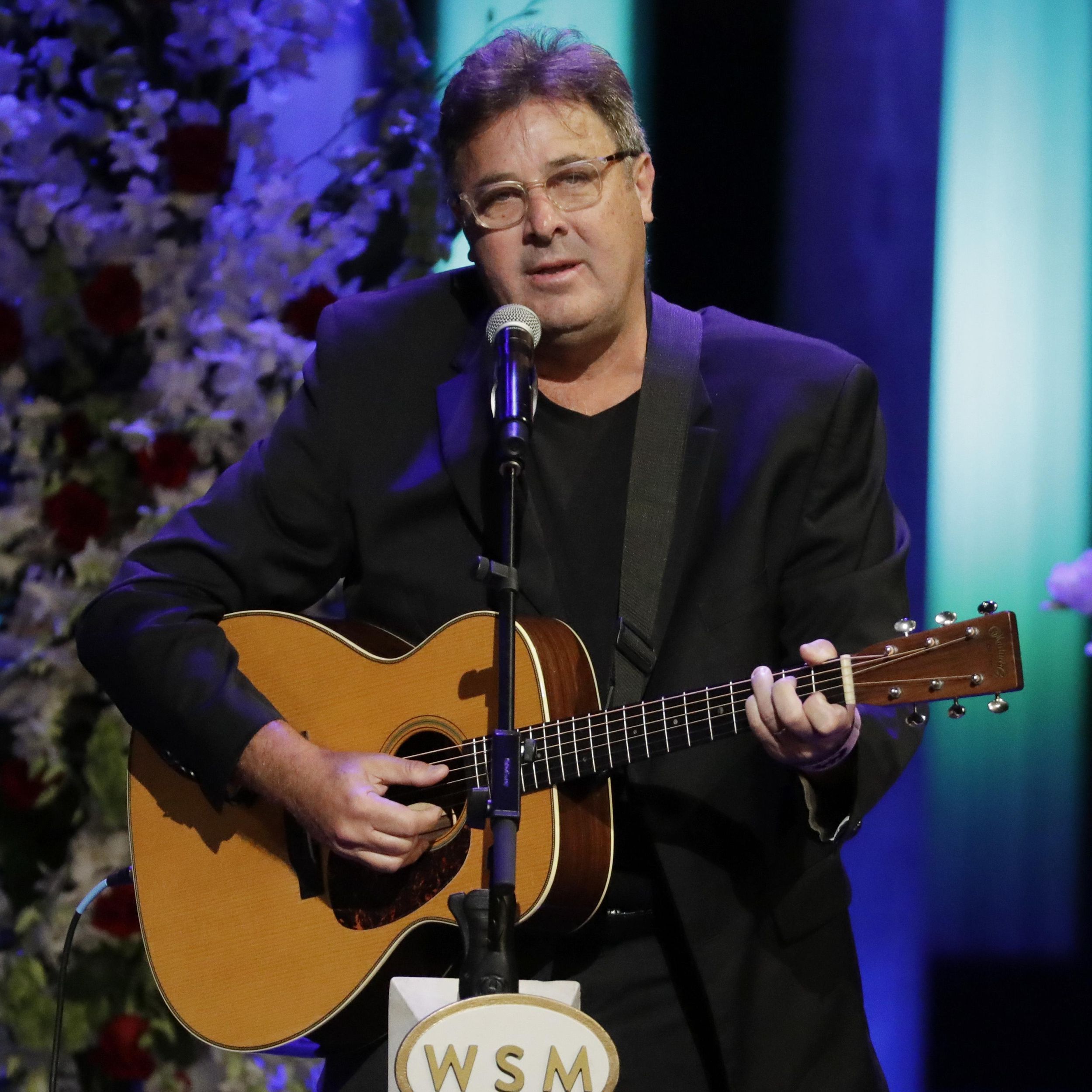 Gill is 54. There are a few artists in the over-50 set who get a pass, like George Strait and Reba McEntire. But Gill thinks he's a better songwriter, player and singer than at any time in his life, and the proof is on Guitar Slinger, his follow-up to his 2006 Grammy-winning album These Days.
It's a deeply personal album, recorded in his new home studio with close friends and his wife Amy Grant and daughters contributing. Some of the songs are among the most powerful he's written, including a pair of tributes to friends he's lost recently. It's an album that sounds like, to Gill, what country music should sound like. It's powerful, story-driven music that doesn't bow to the trends.
"I still sit in the car when I hear my song on the radio, and in this stretch of the last few years where I haven't, that hurts," Gill said.
"It's still no fun. It's a drag to do what you do and they're not interested. 'Come on, man, this is good.' You can't help be a little bit deflated by all that. You desire doesn't change. Mine hasn't changed. I still want what I'm doing to reach people and touch people. I'm not going to quit trying."
AP