Former Calvin Klein model and Baywatch actor turned top Luxury Real Estate Agent. This is Michael Bergin story on retro super models.
An actor and model, Bergin has been featured in magazines and on billboards around the world. Growing up in the small town of Naugatuck, Connecticut, Bergin never considered modeling or acting. During his sophomore year at the University of Connecticut, a friend repeatedly urged him to try modeling.
Although Bergin remained uninterested in modeling, he quickly learned that the industry's earning potential would greatly ease the financial burden of his college tuition.
With the demands of work growing and the commute to New York becoming more frequent, Bergin decided to spend the summer after his junior year in Manhattan working full time. Although his career quickly took off, Bergin chose to complete his education at the University of Connecticut, graduating with a degree in business marketing. One month later he moved back to New York permanently.
In search of a fresh face to replace Mark Wahlberg as his underwear model, Calvin Klein chose the relatively unknown Bergin to appear both solo, and with Kate Moss in jeans, underwear and suit advertisements.
From that moment on, Bergin's career took off. Bergin has walked the runways of New York, Paris and Milan for Sonia Rykiel, Valentino, Calvin Klein, GianFranco Ferre, Giorgio Armani, Yves Saint Laurent and Donna Karen and was the exclusive model for Claiborne for Men, a division of Liz Claiborne, Inc., for over three years.
He has also appeared in commercials and print advertisements for Kellogg's, Bacardi Rum, L'Oreal, Maybelline, Coty, Valentino, Perry Ellis, and Liz Claiborne.
In addition, Michael has completed correspondent work for E! Entertainment Television, Entertainment Tonight (1981) and VH1. Movie and television credits include the Merchant Ivory film The Proprietor (1996) and a re- occurring role on Darren Starr's C.P.W. (1995).
Michael Bergin is perhaps best known as "Jack 'J.D.' Darius" on the internationally renowned hit series Baywatch (1989).
His 6″ 1′ frame and enviable washboard abs (amongst other features) gained international exposure in print ads and, notably, on a 96′ X 70′ billboard in New York City's Times Square. Since stepping out of those very famous boxer briefs, he has begun an unusually diverse acting career.
In my opinion, Michael and David Chokachi were the hottest guys to ever star on Baywatch! (Though David Charvet and Jeremy Jackson were hot as well!)
Michael soon found himself catapulted to the status of male supermodel.
In addition to his high profile work as a runway model, Calvin Klein 'spokesbody', Michael became a respected community activist, working closely with the anti-drug children's program D.A.R.E. as a national spokesperson, and lending his name, time, and image to numerous AIDS charities.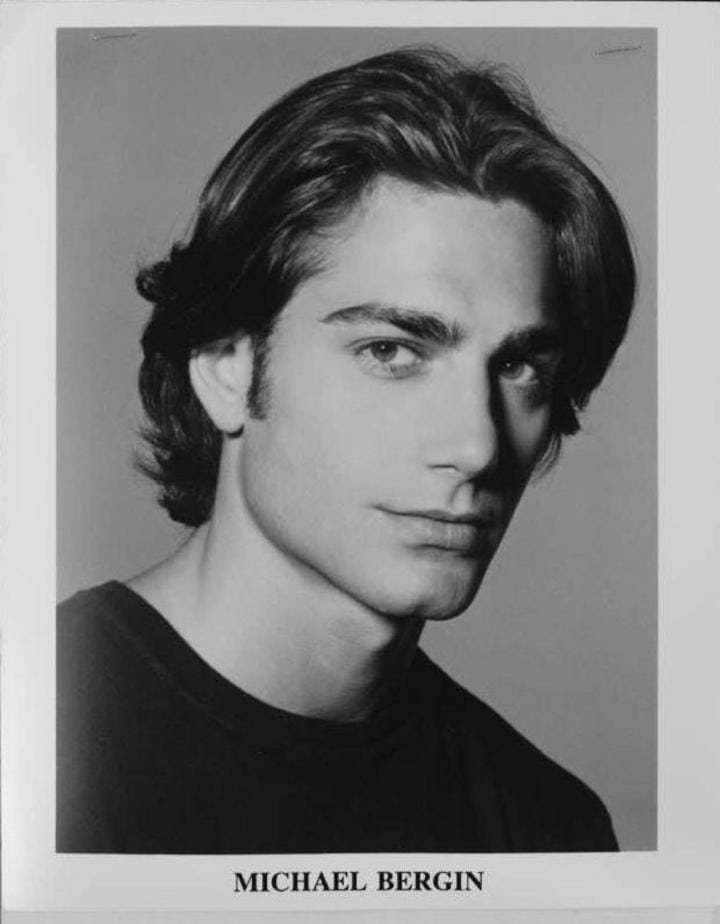 He continued to model, appearing in commercials and print advertisements for Liz Claiborne, Coty, Bacardi Rum, L'Oreal, Kellogg's, Maybelline and Perry Ellis. Branching out into acting and television presenting, Michael was soon seen as a correspondent for the E! Entertainment channel, VH1 Latin America's House of Style, and as a recurring character on the prime-time soap opera C.P.W. (1995).
In unusual moves for a model-turned-actor, Michael has worked for art-house legends Merchant Ivory, in the film _Proprietor, The (1989)_ and played a gay, closeted action film star opposite Dean Cain in The Broken Hearts Club: A Romantic Comedy (2000).
Wrote a book "Other Man: John F. Kennedy Jr., Carolyn Bessette, and Me" Published by HarperCollins World (30 Jun 2005). The book is about his relationship with Carolyn Bessette Kennedy, before and during her marriage to John F Kennedy Jr.
Michael Bergin has re-emerged from his 2004 DUI arrest with a sexy new line of men's underwear, available exclusively on his Web site.
The world may not need another brand of designer underwear, but I say any excuse to see Michael in his skivvies is a worthwhile endeavor.
Bergin began a career in Real Estate in 2001 as a real estate agent in Beverly Hills. He remains married with Joy Bergin. He has established a role as a bona fide industry leader, revered for his unwavering work ethic, 24/7 service, dynamic personality and unrivaled negotiation skills.
Michael Bergin @themichaelbergin